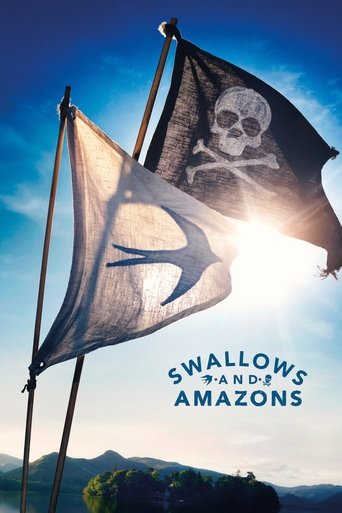 »INFORMAÇÕES«
Titulo Traduzido: Swallows and Amazons Torrent
Título original: Swallows and Amazons
IMDb: 6,2/10
Ano de Lançamento: 2017
Gênero: Aventura, Drama, Família
Idioma: Português, Inglês
Legenda: Português
Duração: 1h 37 Min.
Tamanho: 706 MB, 1.05 GB
Qualidade: BluRay 720p | 1080p
Extensão: MP4
Codec de Áudio: AC3 5.1 / AAC 2.0
Qualidade de Áudio: 10
Qualidade de Vídeo: 10
Servidor Via: Torrent

Sinopse: Swallows and Amazons' é baseado no clássico livro best-seller de Arthur Ransome. Situado ao longo de umas férias de um perfeito verão inglês, os quatro filhos Walker e seus rivais da vela, os Blacketts, correm soltos em seus barcos diante do cenário deslumbrante de Lake District. Os Walkers navegam o ágil Swallow e os Blacketts comandam o Amazon, fazendo acampamento em uma ilha próxima. O mundo deles é o da imaginação – com piratas e cânones, onde os barcos são capturados e o inimigo tem que andar na prancha. Mas quando o amigo da família, o tio Jim é revelado ser um espião, o grupo heterogêneo é forçado a colocar as suas espadas imaginárias e se unir para se proteger de seus inimigos soviéticos.
:: LEGENDADO ::
---

---
Baixar Swallows and Amazons Torrent (2017) Dublado / Dual Áudio 5.1 BluRay 720p | 1080p Download